13 Mar

Get More out of Your Motorized Window Treatments with IFTTT

Technology is ever progressing, allowing us to complete everyday activities with more convenience, ease, and control. Now with IFTTT, you can be in even more control of your motorized window treatments, by mixing and matching them with over 600 different services that otherwise would not be readily available with your current motorized operating system.
What is IFTT?
IFTTT, which is shorthand for "If this, then that" is a free platform that lets you do more with your favorite apps and devices by allowing many of them to sync with and "talk" to each other.
With this connection, when one action occurs with one device, IFTTT automatically triggers a separate action within another service or device. So basically, "If this happens, then my other service should do something in response."
How does IFTTT work?
IFTTT works through applets (previously known as recipes).  Applets are formulas or simple scripts used to combine two services using a "trigger" and an "action." Specific triggers from one service will create an automatic action within another.
IFTTT offers over 600 channels and counting, that spread across a range of devices and services which include social networks, smart appliances, smart home systems, wearable devices, and of course, window treatment operating systems.
How does IFTTT work with motorized window treatments?
IFTTT can connect your motorized window treatments to additional services that otherwise would not be supported.
For example, most motorized operating systems are readily able to sync with Amazon Alexa, Google Home, smart phones and tablets via OS apps, however, with IFTTT you can now connect them with your calendars, thermostats, lighting, electronics and more. Compatible services found in IFTTT include, but are not limited to, Philips devices, Samsung SmartThings, Ring, Honeywell, Nest, and more.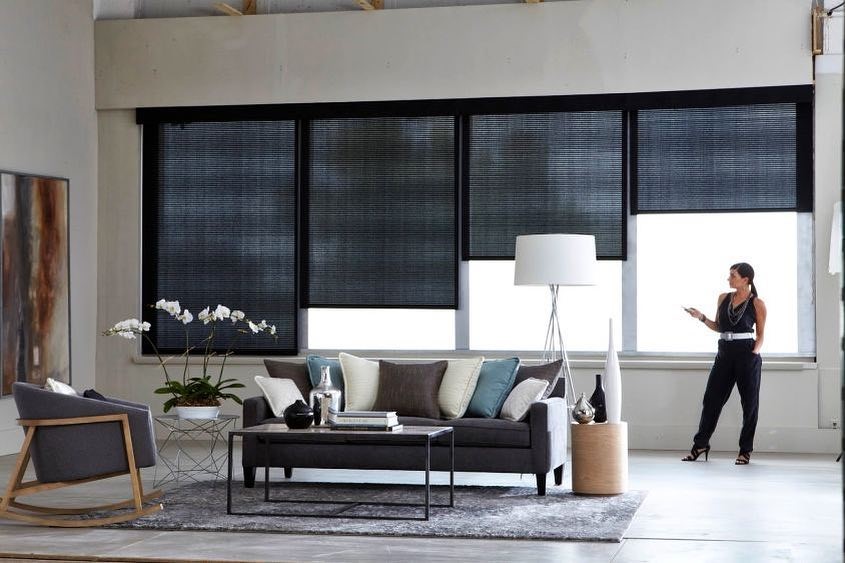 Here a are a few examples of IFTTT applets for your window treatments:
If my interior temperature reaches 90 degrees, open my awnings to shade the home. (Synced with Thermostat)
If my morning alarm goes off, open my bedroom blackout shades. (synced with Google Assistant or other calendar apps)
If I set my home security system to away, close all my interior shades. (Synced with a home security system)
If the forecast is raining, lower my blinds. (Synced with a weather app)
There are so many other applets and services to choose from based on your motorized operating system.
Which motorized window treatment operating systems are currently compatible with IFTTT?
As time progresses, IFTTT will add new services that are compatible with your favorite operating systems. In the meantime, the following operating systems are IFTTT services: Hunter Douglas Powerview, Somfy MyLink and Lutron, all of which can be found at Shades By Design.
Are you ready to take full advantage of what technology has to offer, but do not have motorized shades? Contact us today to learn more about the motorized window treatment solutions we have and to schedule your free in-home consultation.  (305)859-1055