08 Aug

Back to School Edition: Classroom Window Treatments

As an educator, you know the importance of creating the ideal learning environment to ensure your students' success. However, most don't take into consideration how much windows can both positively and negatively affect learning environments. Windows can either encourage learning or distract from it. The right window treatments can help create the ideal learning environment in a variety of ways.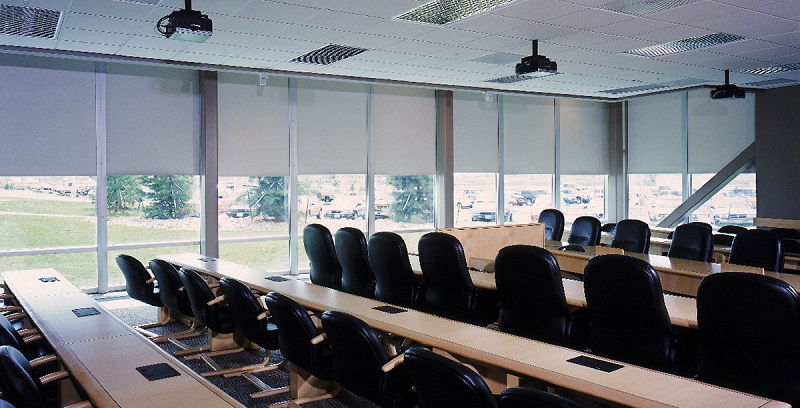 Eliminates Outdoor Distractions
The first thing that is extremely important in a class room is less distractions. While window treatments cannot prevent students from using their cell phones during lectures, they sure can help eliminate outdoor distractions. With solar shades, you can still enjoy a well naturally lit classroom while blocking out exterior views.
Offers the perfect balance of Natural Lighting
Studies show that natural lighting can help uplift mood and increase work productivity. Incorporating solar/screen shades into your classroom can help you harvest more natural lighting.
Reduces Glare
Eliminate the glare on your smart screens, tablets, computers and more with classroom window treatments. Reducing glare can improve focus and concentration because it allows you and your students to focus on the lecture and lessons without squinting and exerting more effort than needed to view screens and take notes.
Reduces Solar Gain
Comfort is also important for ideal learning environments. Reduced solar gain helps keeps your classrooms interior temperature comfortable and consistent all day long.  You no longer have to worry about your students being too hot too focus. A bonus to this is reduced energy costs.
Adds Convenience and Innovation
Just like most schools have gotten rid of blackboards and projectors, it's time to step away from manual and corded window coverings. Motorized and Automated window treatments are convenient way to adjust lighting and privacy when needed without pausing the lecture or disrupting the class flow. Just simply push a button or recite a voice command to operate your window treatments.
To learn more about classroom window treatments or to schedule your FREE consultation, contact Shades By Design today! (305) 859-1055 or [email protected]