Our hurricane screens are proof that you can protect your home without compromising the beauty of your architecture or the style of your exterior décor.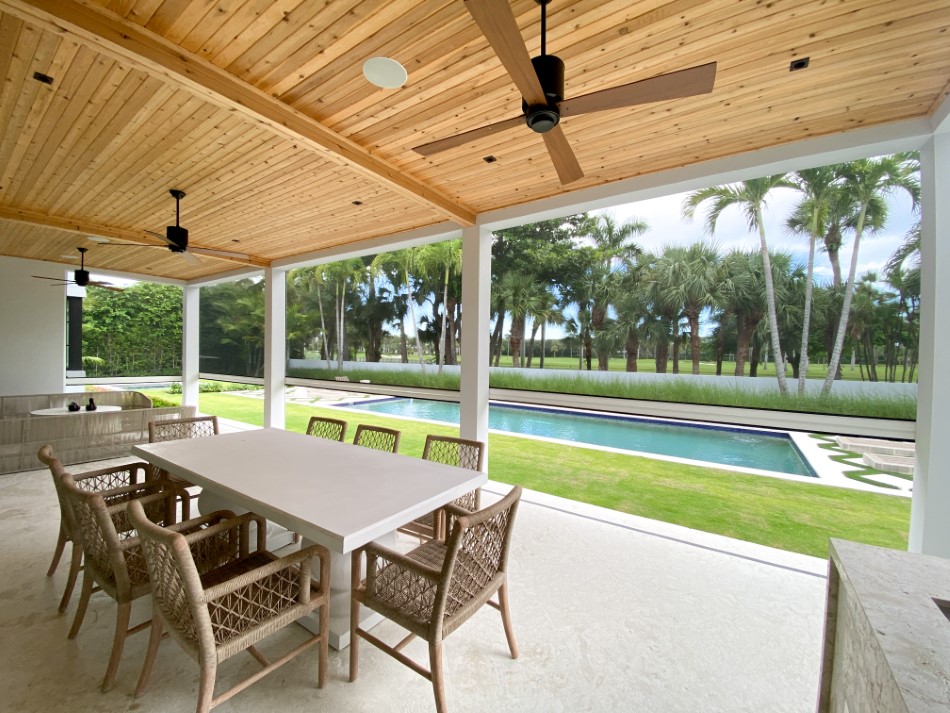 Hurricane Screens Benefits
Our custom hurricane screens use a blend of high tenacity PET and Aramid core yarns which are coated with a durable vinyl that defends against severe hurricanes, insects, solar rays and offers maximum outdoor privacy. This can also help protect your structure from hurricane winds exceeding 156 mph and even heavy, flying debris. With a 10-year warranty on the fabrics, you have peace of mind that you are covered in more ways than one.
Another added benefit to our hurricane screens is they are considered "self-extinguishing," unlike most competitive Polypropylene fabrics which are highly flammable and break down easily from U.V. rays.
These screens can even be motorized with special technology that can withstand the harsh conditions these screens are meant to protect you from.
Benefits of Choosing Florida Product Approved Hurricane Screens:
Peace of Mind: With our Florida Product Approved Hurricane Screens, you can rest assured that your home is equipped with a premium defense against hurricane-force winds and flying debris.
Proven Performance: Our screens have met the rigorous requirements set by the state of Florida, demonstrating their ability to withstand the most challenging weather conditions.
Enhanced Security: By choosing our Florida Product Approved Hurricane Screens, you're making a proactive choice to protect your property and loved ones, allowing you to face stormy weather with confidence.
At Shades By Design, your safety and satisfaction are paramount. Our commitment to excellence is reflected in every product we offer. Choose our Florida Product Approved Hurricane Screens and experience the pinnacle of protection for your home.
Certifications:
Our hurricane screen systems exceed the performance criteria of the following standards, with spans of up to 30 feet:
​​TAS 201, 201, 203, 203-94
ASTM E330, E1886 & E1996
Florida Product Approval: #FL30798
Design Pressure up to +/- 200 PSF
Hurricane Screens Gallery Inspiration
All you need to know about hurricane screens