Retractable Awning Pergola
Our retractable roof awning pergolas provide you with a unique level of comfort for your outdoor spaces.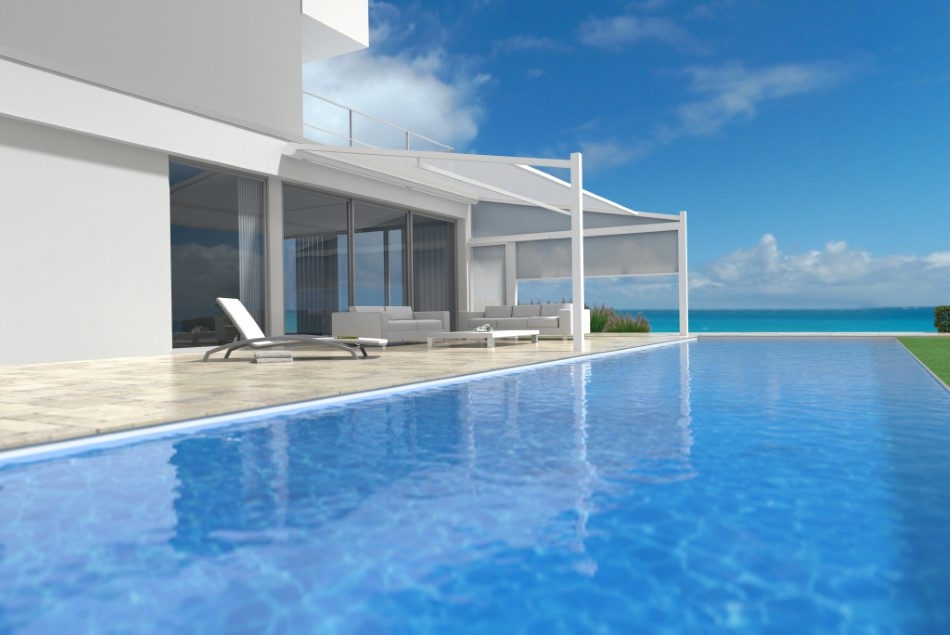 Retractable Awning Pergola Benefits
Renson Retractable Awning Pergolas
These motorized or manual pergola systems allow you to enjoy your outdoor space to its full potential, rain or shine.
If you are installing in a commercial space, such as a restaurant, you can extend your dining space to the outdoors without sacrificing the comfort of your patrons.
The Renson Lapure is a beautiful addition for your outdoor space which enhances your exterior aesthetic without being too extravagant. Its minimalist design consists of sturdy aluminum columns and a retractable canopy roof which blends in perfectly with modern spaces.
There is also a Renson Lapure classic line which offers coves and embellishments which combine well with a more classic/ traditional style of building.
Benefits of the Renson Lapure Retractable Awning Pergola
Easy to connect canopy/roof for convenience
The canvas screen provides protection against the rain, wind and sun
The canvas and can be fully opened for a panoramic view of a blue sky or a starry night.
Additional Ways to Customize your Pergola
Add end columns with integrated water discharge to automatically drain the rain
Choose a Renson Lapure with shifted columns for more shading.
Add lighting to set a tone, such as LED lighting
Add Somfy motorization for ease of access, ease of operation, and automation capabilities.