Cellular honeycomb shades 
Cellular shades are a trendy window treatment choice due to their insulation qualities.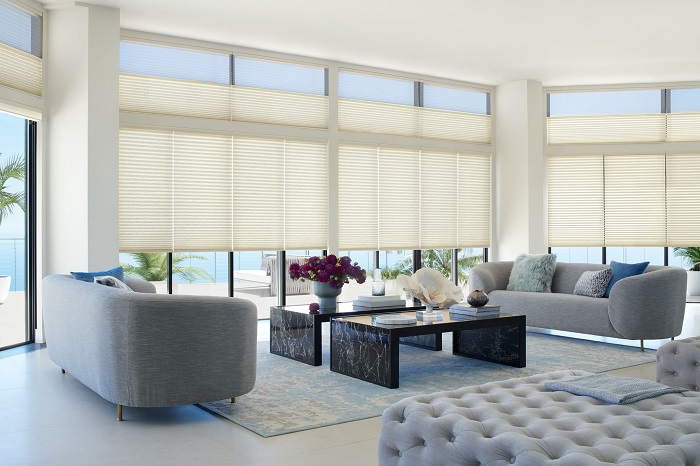 Cellular honeycomb shades Benefits
Their unique pockets help trap air and insulate your interior, keeping it cool in the summer and warm in the winter. This insulation also helps in lowering one's energy consumption.
Regarding the privacy and light filtering, cellular shades give you a fantastic amount of control. Some styles can be operated from the top down, allowing sunlight while maintaining privacy, or bottom-up, just as you would any other shade.
Honeycomb shades are a great mix of style and easy operation that is cost-effective. Available in a wide range of fabrics, colors, pleat sizes, and textures, Shades By Design's cellular shades are a top choice for any window, sliding doors, and specialty window shapes like circles and arches.
Blackout Honeycomb Shades
Achieve 100% light blockage, improve energy efficiency, and enjoy a restful slumber through a single window treatment.
Honeycomb shades, called cellular shades or cellular blinds, are one of the most energy-efficient window treatments due to their insulating properties.
Now, you can enjoy the same energy-efficient benefits of the traditional cellular shade in unison with the help of the conventional blackout shade.
Blackout honeycomb shades incorporate the same air-trapping pockets, which help maintain a comfortable interior temperature, with light-blocking abilities due to its ridged interior surface that traps and absorbs light from all strengths and angles.
So, whether you want to enjoy enhanced privacy, create the perfect ambiance for a theater room, or enjoy a nice restful sleep without "light pollution," these are the perfect shades for you.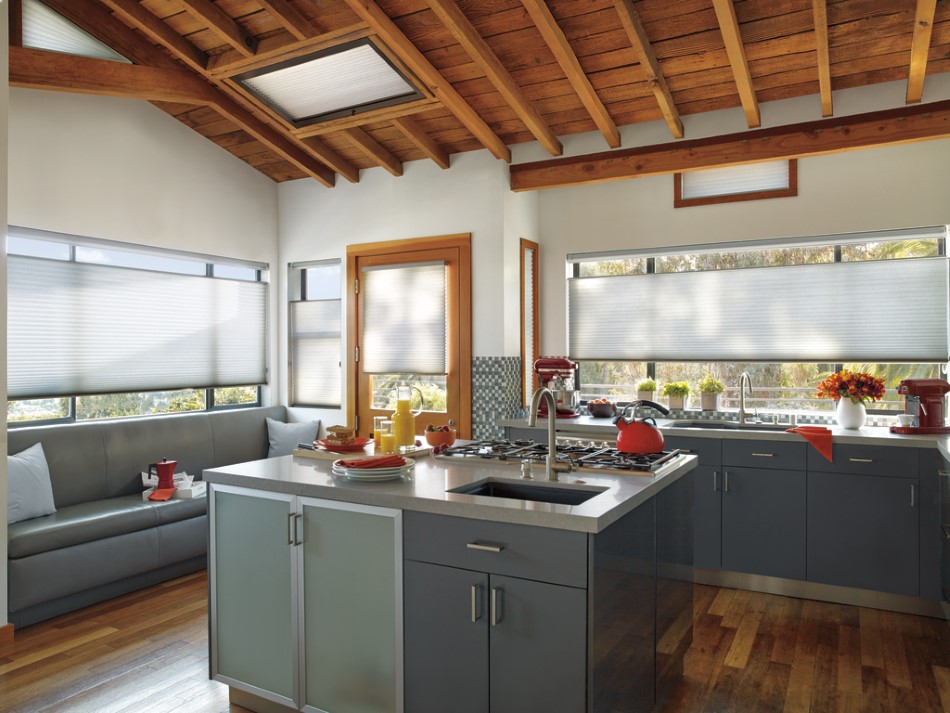 Energy Efficient Honeycomb Shades
30% of your home's energy is lost through your windows. Not anymore! Installing energy-efficient honeycomb shades can help.
How would you like to insulate your home all year round while enjoying the aesthetic appeal of an innovative and beautiful window treatment? You can use energy-efficient honeycomb/cellular shades by Shades By Design.
Our energy-efficient shades offer the following:
Premium Design & Style
Various styles and operating methods are available
Customization to fit nearly every door or window
Durability
Sound Absorption
Motorization