11 Sep

Floor To Ceiling Window Treatments
Architects and developers have the right idea when they design their residential and commercial projects with floor to ceiling windows.
Large expansive windows such as these create a nice open atmosphere, allow in an abundance of natural light, and offers amazing views. With this beauty, however, comes a few challenges such as greater solar heat gain, excess glare from the sun, and privacy concerns. These can be solved with the right window treatments, but not many are sure which ones work best with floor to ceiling windows. This is where we come in!
We will deal with this design "dilemma" quite often with the luxury homes, high-rise developments and commercial locations we work with and below are two of:
The most popular window treatment options for floor to ceiling windows: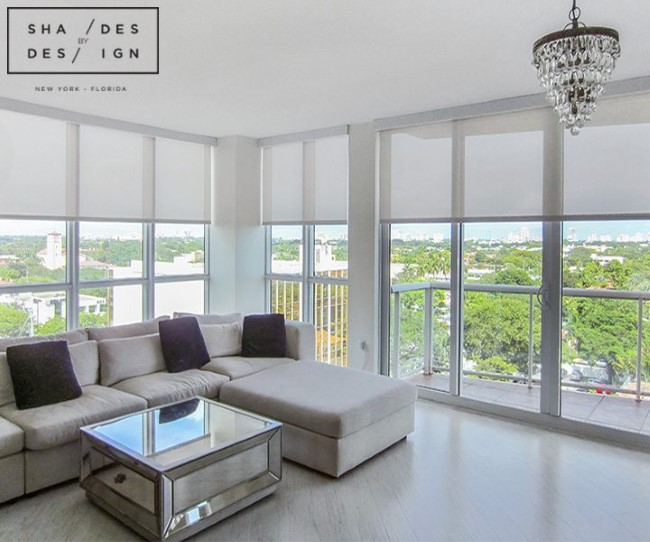 1. Floor To Ceiling – Motorized Shades
Some may feel their floor to ceiling are too large for roller shades.  When dealing with a professional Window treatment company like Shades By Design, roller shades can be custom created to correspond with your windows width and height to create a perfect solution for you.
Another concern is how to operate shades that are mounted so high up. With motorized shades, accessibility will be a concern of the past. With options to operate your shades via remote, wall switch, smart device or voice control, you can easily adjust your lighting and privacy with little effort.
Some Recommended Styles
Consider Blackout Shades for bedrooms to block out light during the night and into the early morning for a more peaceful sleep.
Consider Screen/Solar shades for the common areas and bathrooms.  This will help you maintain your view (even when the shades are lowered), offer privacy, remove glare from your screens, protect your furniture and floors from UV rays, and lower solar heat gain.
Banded Shades are another popular choice and offer great versatility. With their alternating sheer and solid fabrics, you get the benefits of room darkening shades and solar/screen shades in one!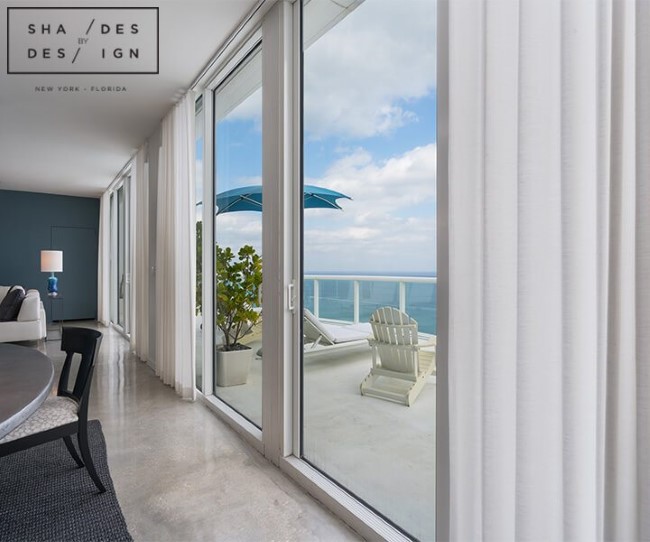 2. Floor To Ceiling – Motorized Drapery
Draperies are a timeless window treatment that allow fabric versatility, functionality and light control while adding softness to your windows.
With motorized draperies, there is no need to tug on your drapery fabric to open and close them. This minimizes wear and tear and your fabric maintains its clean and "like new" look for longer.
Motorized draperies also offer a nice and clean look as they are installed on discrete drapery tracks as opposed to traditional drapery rods and other hardware.
Similar to the motorized shades mentioned above, you can operate your drapery via hand-held remote, wall switches, smart devices or voice control.
To learn about these window treatment solutions or to inquire about other solutions for floor to ceiling windows, contact us today. Our designers can help create a window treatment solution that mixes form and function and will not take away from the beauty of your tall and expansive windows. (305)859-1055 or [email protected]adesbydesign.com.