09 Dec

Inside Mount vs. Outside Mount for Roller Shades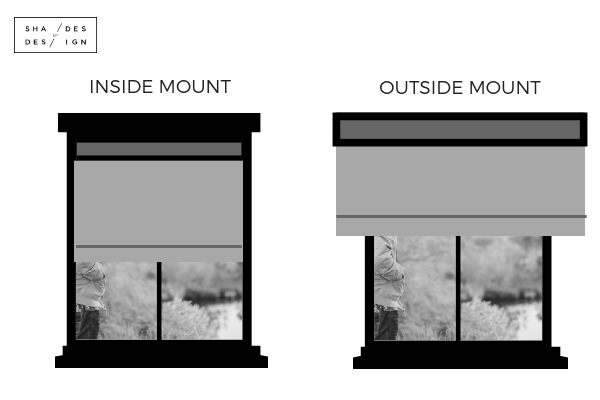 So you've decided it's time to enhance your décor and have control of your interior atmosphere with new high-end roller shades for your home or commercial space. You have the aesthetics and function in mind, but not sure where to mount them.
Below you will learn about each mount and the best situation to use either or.
Inside Mount
Roller shades that are recessed and contained within the window frame are "inside mount."
Inside mounts are popular for their aesthetics as they provide a clean, finished look.
Inside mount roller shades are commonly paired with fascia or top treatments (valences or cornices) to hide the bracket and tube mechanism to maintain the clean look mentioned above.
When mounted inside, roller shades are placed slightly away from the glass, usually ¾ inches, to give the shade enough room to adjust smoothly.
If you are would like to inside mount your blackout roller shades, you can expect a little light to enter through the sides due to the gap between the fabric and window edge. When you book your FREE on-site consultation, ask our designer about how side channels can solve this.
With inside mount roller shades, you have the option of installing dual shade and single shade solutions with motorized operation available.
Outside Mount
"Outside mount" roller shades are usually mounted on the windows upper molding, on the wall just above it, or on the ceiling.
Outside mount roller shades are made larger (in both width and length) than the window so the entire window is covered when the shades are drawn.
If you chose to install outside mount blackout shades, side channels are usually not required as the shade extended beyond the window opening and therefore restricts more light from entering.
Like inside mount solutions you have the option of installing single and dual shades with motorization available.
For a clean look, a fascia is recommended to cover the brackets and other components.
For more information on which mount is best for your project, or to schedule your complimentary in-home or on-site consultation, contact us today!