25 Jul

Setting the Mood with Window Treatments

When you hear about setting the mood or tone for your space, what is the first thing that comes to mind? Most will mention artificial lighting, smells, and décor, but window treatments can actually have a big impact in setting the mood you want in your residential and commercial space.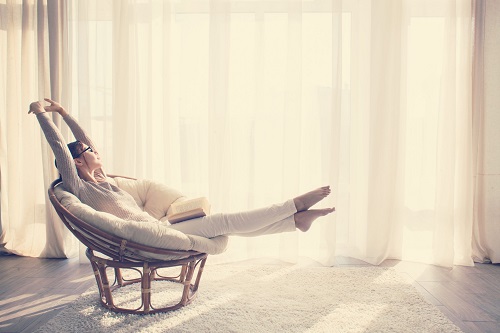 Goal: Light and Airy/Open
Solution: Sheer Fabrics.
Example Window Treatment Ideas: Screen Shades, Zebra Shades, Silhouette® Shades, and Pirouette® Window Shadings.
If you are looking to have a space that is feels light, airy, and open, it is important to let in natural light. Sheer fabric window treatments such as the ones mentioned above are a great option. These window solutions let the right amount of natural light trickle into your space, while maintaining daytime privacy and reducing glare.
These solutions are great for common areas, lobbies, offices, and more.
Goal:  Relaxing/ Restful
Solution: Room Darkening/Blackout Fabrics
Example Window Treatment Ideas: Blackout Draperies, Blackout Shades, Duette® Honeycomb Shades with Lightlock™, Plantation Shutters.
Want to create space that promotes rest and relaxation, room darkening and blackout solutions are a great choice. These solutions can block out up 100% of incoming light to promote a deeper more restful sleep regardless of the time. Also, some blackout options such as blackout draperies can help block out sound from the outside!
These solutions are great for bedrooms, entertainment rooms, bathrooms, hotel guest rooms, and more.
Goal: Lively and Colorful
Solution:  Printed Fabrics
Example Window Treatment Ideas: Printed Shades, Floral Fabrics, Pastel Fabrics
Want to add life and character to your space, try adding a bit of flare to your window treatments. Rather than solid neutral colors, go for prints, florals, pastels, and styles that "pop."
Goal:  Cool and Comfortable
Solution: "Sun Blocking" fabrics.
Example Window Treatment Ideas: Solar Shades, Honeycomb Shades, Silhouette® Shades, and more
Want to maintain a cool and comfortable interior temperature without increasing your energy bills? Energy efficient window treatment solutions can do the trick! With Sun blocking window treatments, you can maintain a cool interior, which is imperative in South Florida, and also enhance privacy, control you view, and limit glare.
These solutions are perfect for any space. Residential or commercial.
Looking to set the tone in your home, office, café and more? Contact Shades By Design to learn about our extensive window treatment selection and to schedule your FREE consultation. (305) 859-1055 or [email protected]